Overview
Below are three of our favorite day trips from Playa Flamingo.
TAMARINDO
Tamarindo is one of those places you'll either love or hate. The throngs of tourists that flood the streets in the high season can feel a bit like Phuket or Cabo. We enjoy a day trip to this hustling beach town to explore some great restaurants, craft beer, and time in the surf. Then back to Playa Flamingo for a relaxing evening listening to the waves.
Tamarindo is a great town for a first-time surf lesson. Both lessons and board rentals are readily available and competitively priced between vendors on the beach. Look for the signs and don't swim in the surf zone where people are riding boards. Many are surfing for the first time and a loose board can do some damage if it were to hit you.
If you're in a younger group, don't be surprised if someone casually offers you drugs on the beach. Please say no! It's probably not what you think it is. See our entire list of 10 Things Not To Do In Costa Rica.
Tamarindo is around a 30-minute drive from Playa Flamingo and the surrounding areas. It's well worth the visit for the shopping-centric tourist but likely a pass for those who want a relaxing getaway. Tamarindo is hectic compared to neighboring beach towns and the beaches aren't as nice as Flamingo, Conchal, or Potrero.
LA LEONA WATERFALL
La Leona Waterfall is one of the most amazing day trips you can take from Playa Flamingo and the surrounding areas. It takes a while (1.5 hours driving) to get there but it's well worth the adventure. The year-round waterfall and optional activities are an amazing way to spend a day away from the beach.
Some travelers write about exploring this area by themselves but we haven't seen that as a real option. The waterfall is in a gated property and the La Leona Tour Company appears to have the easiest accessibility for a reasonable fee. The entry price gets you into the falls on a group tour with a guide or a small up-charge gets you a private tour. We were lucky enough to be paired with one other couple so it was nearly private and we had such an amazing time at the falls!
You can also add on river tubing (we did), hot springs (we did), and zip lining. From what I could tell, the zip lining is fairly bland and may be better elsewhere. Overall, this tour company does an amazing job and we'd join them again in a heartbeat. Professional, exciting, and a truly pura vida experience.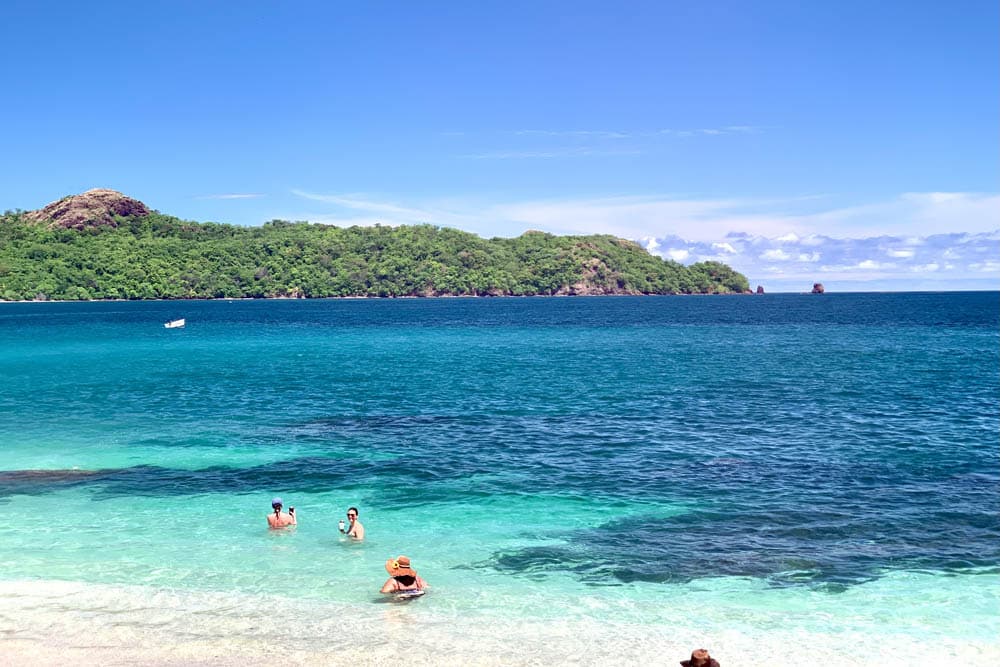 PLAYA CONCHAL
Playa Conchal is one of the best day trips from Playa Flamingo and one of the most beautiful beaches in all of Costa Rica. The coarse sand is made up of millions of crushed seashells and feels amazing against your feet. The crystal clear blue water makes for some fun snorkeling against the cliffside so bring a mask and snorkel if you enjoy the underwater scenery.
Getting to this beach is a bit of a trek. You can park on the street in Brasilito town or pay around $3-5 USD for parking closer to the beach. From there you'll head down to the shore and walk south for a half mile to get to the entrance of Playa Conchal.
On weekends, we recommend getting to the beach early as it can get pretty crowded in the main tourist area. You can claim a spot in the shade or for around $20-40 USD (depending on your negotiation skills) you can rent a canopy tent and chairs for the day from a local beach vendor who will set it up for you. We bring in our Yeti Cooler, Neso Sun Shade, and chairs for a cheap day at what could be an expensive trip to the beach.
Conchal spans a few miles down the coast but it's difficult to get farther down with our walking the stretch. The busy area is more easily accessible and is where most people take their Instagram photos. For a quiet piece of paradise, simply walk down the beach 300m.
Recap
Playa Flamingo is a true gem on the Gold Coast of Costa Rica. These day trips offer an unforgettable experience filled with adventure, relaxation, and natural beauty. From enjoying the pristine beaches to experiencing thrilling activities, there's something for everyone here. So check out our packing list and get ready for the trip of a lifetime in Playa Flamingo, Costa Rica!