TAMARINDO
Tamarindo is a good mix of fun, chill vibes, and surf culture. Look for Volcano Brewing when you get into town and shortly after, Rasta Joaquin will usually be there flagging you down for parking. Parking with him only costs a few dollars and he watches your car while you're out exploring. If you're into surfing or even just want to give it a try, Tamarindo's got your back with mellow waves and tons of surf schools ready to help you with a lesson or board rental. Be sure to grab some reef-safe sunscreen like this Sun Bum to protect yourself from the rays.
There are tons of restaurants dishing up everything from fresh seafood and traditional Costa Rican food to sushi and Italian. There's something for everyone. Once the sun goes down, Tamarindo comes to life. I've passed my all-night party days but there are bars, clubs, and live music spots where you can dance or just chill with a drink in hand.
Don't forget to check out the shopping scene! Tamarindo's got some great shops and boutiques where you can find souvenirs, local handicrafts, and beach essentials. As you wander around town, soak in the laid-back atmosphere, chat with the friendly locals, and snap some pics of the beautiful surroundings.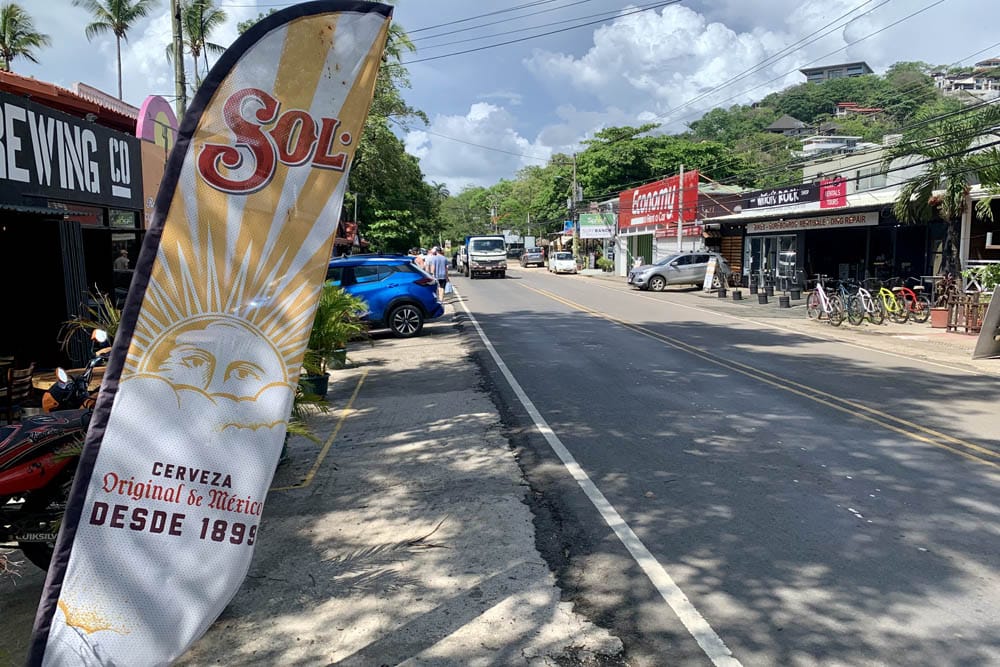 Visit La Leona Waterfall
La Leona Waterfall is an extraordinary day trip that you don't want to miss if you're in or around Playa Flamingo. The journey there takes about 1.5 hours by car, but it's definitely worth the time and effort. The waterfall, which is accessible all year round, and the optional activities are an excellent way to spend a day away from the beach.
I've read that some travelers suggest exploring this area independently. That doesn't seem to be a feasible option from my experience. The waterfall is located in a gated property, and the easiest way to access it is through the La Leona Tour Company, which offers reasonable fees. With the entrance fee, you can join a group tour with a guide or pay a small up-charge for a private tour. Fortunately, we were paired with another couple, so it was almost like a private tour, and we had an unforgettable time at the falls! Don't forget a packable microfiber towel like this to dry off after the swim.
Additionally, you can also enjoy river tubing (which we did), hot springs (which we also did), and zip lining. From what I gathered, the zip lining experience is relatively uneventful and might be better elsewhere. Nonetheless, this tour company does an excellent job, and we would gladly join them again in the future. They are professional, thrilling, and exciting!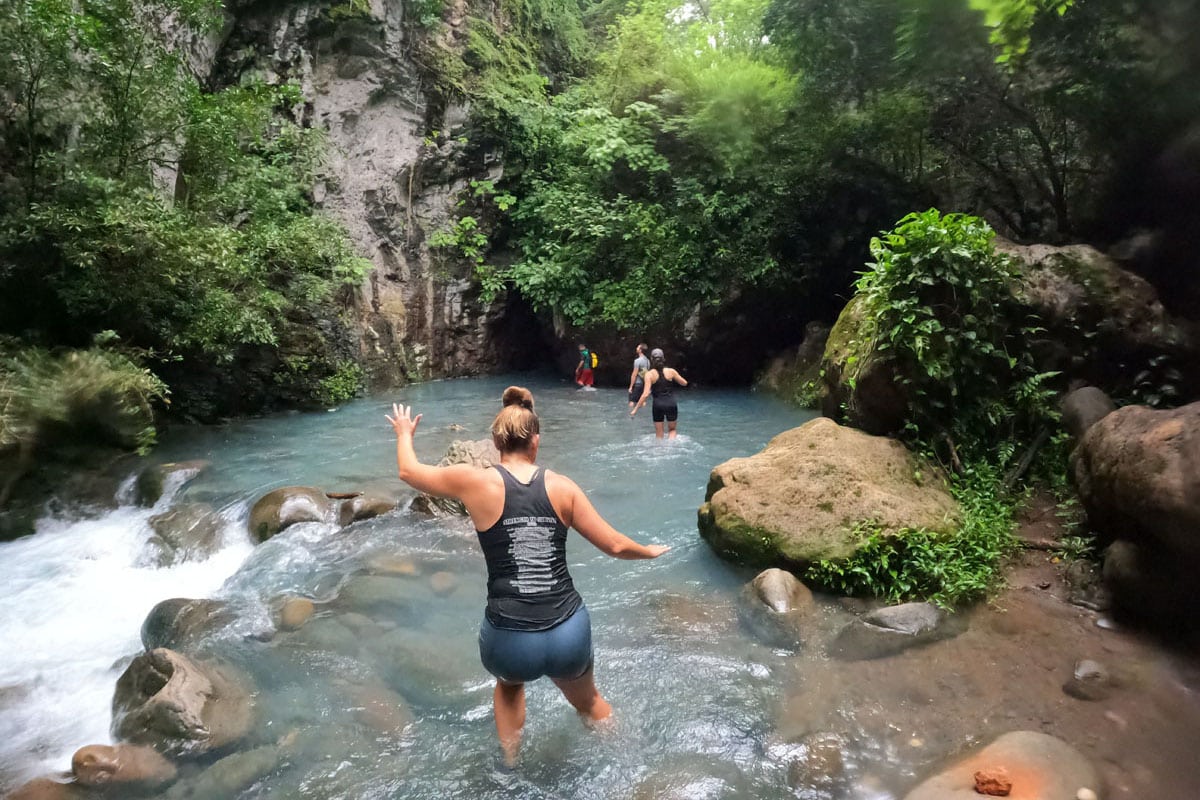 PLAYA CONCHAL
If you're looking for a stunning beach in Costa Rica, Playa Conchal is definitely worth a visit. The sand is composed of millions of crushed seashells which creates a coarse and textured surface to walk on. Plus, the crystal clear blue water is perfect for snorkeling against the cliffside.
Keep in mind that getting to this beach requires a bit of effort. You can park on the street in Brasilito town for free or pay around $3-5 USD for closer parking. Once you make it to the shore, it's a half mile walk south to reach the entrance of Playa Conchal.
On weekends, it's best to arrive early to avoid the crowds in the main tourist area. You can find a shady spot or rent a canopy tent and chairs from a local beach vendor for around $20-40 USD (depending on your negotiation skills). We recommend bringing your own cooler, sun shade, and chairs to save money. We never leave for the day without our Yeti Rambler Can Coolers to keep the Imperial cold all day. Conchal stretches for a few miles along the coast, so there's plenty of space to explore and relax.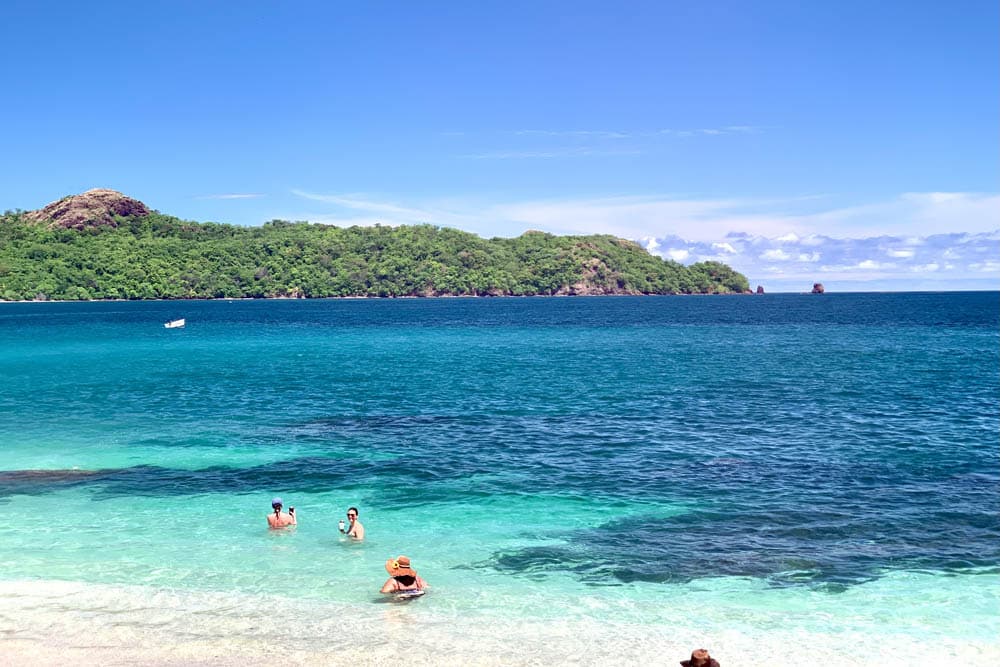 Let's Go
Playa Flamingo is a true gem on the Gold Coast of Costa Rica. These day trips offer an unforgettable experience filled with adventure, relaxation, and natural beauty. From enjoying the pristine beaches to experiencing thrilling activities, there's something for everyone here. So check out our packing list and get ready for the trip of a lifetime in Playa Flamingo, Costa Rica!