Overview
If adventure is your main goal, renting a car in Liberia, Costa Rica is the absolute best way to get around the area. It gives you the freedom to explore at your own pace and avoid wasting time and money on taxis which can be difficult to find in certain areas. Or rental includes tons of gear so check out our recommended packing list to see what we already provide. Don't miss our Top 3 day drips from Playa Flamingo. 
RESERVATIONS
It's best to make a reservation for a rental car. It no only locks in a price that you're comfortable with, it makes the whole process much easier when you get to the rental counter. It also helps if you're arriving on a late flight so they are prepared to shuttle you to the pickup location. We used to use Expedia to search and find our rentals but Economy Rental Car is now our favorite. Their cars are always newer and in great condition.
THE PICK UP
The rental car pickups are outside of the airport so your rental company will shuttle you to the proper location. After you land and get through customs, head over to the rental car counters near the exit of the airport. There's normally one person at each company kiosk. Confirm your reservation with them and they will arrange a shuttle to take you to the pickup location. If you get in late and there's no one at the counter, continue exiting and there should be someone with your rental company's sign waiting for you.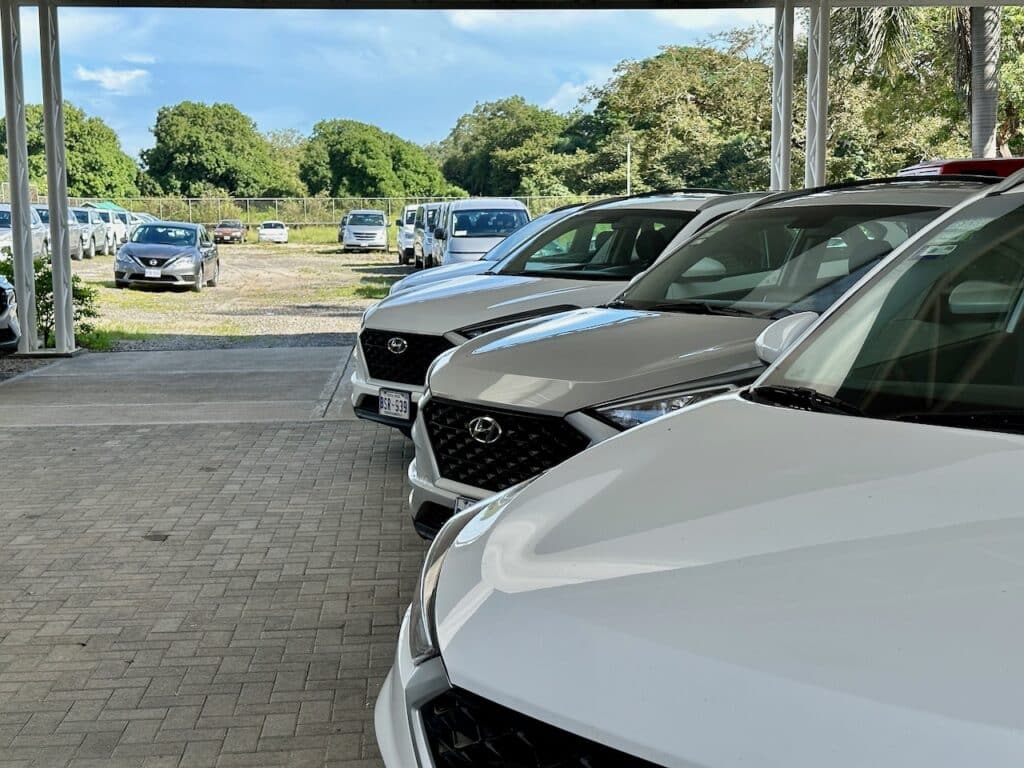 INSURANCE  & FEES
So this can be a tricky one. If this is your first time renting a car and driving in Central America, we recommend that you get whatever insurance that you are comfortable with. The main highways in Costa Rica are actually very easy to drive in (except in downtown San Jose which can be quite hectic in rush hour). The downside of insurance is that it can often add up to more than the daily rental car rate.
We normally decline all insurance as our Chase Sapphire Reserve or Capital One Venture X credit cards provide great rental coverage as a perk of the card. We have yet to need this primary coverage but you never know where your adventure will take you. Economy requires some proof of coverage from your credit card company so remember to take a screenshot of your card benefits page or you may be required to pay for their insurance.
There is also a required liability waiver that you cannot decline. For average vehicles, it's about $25/day on top of the rental fee.
Renting a 4X4 vehicle
The main highways are paved but dirt roads are a norm in much of Costa Rica. Like insurance, this one comes down to your comfort level getting around on dirt roads in a new area. We've made the mistake of not having a 4×4 in the rainy season so our general advice is to get 4×4 to be safe.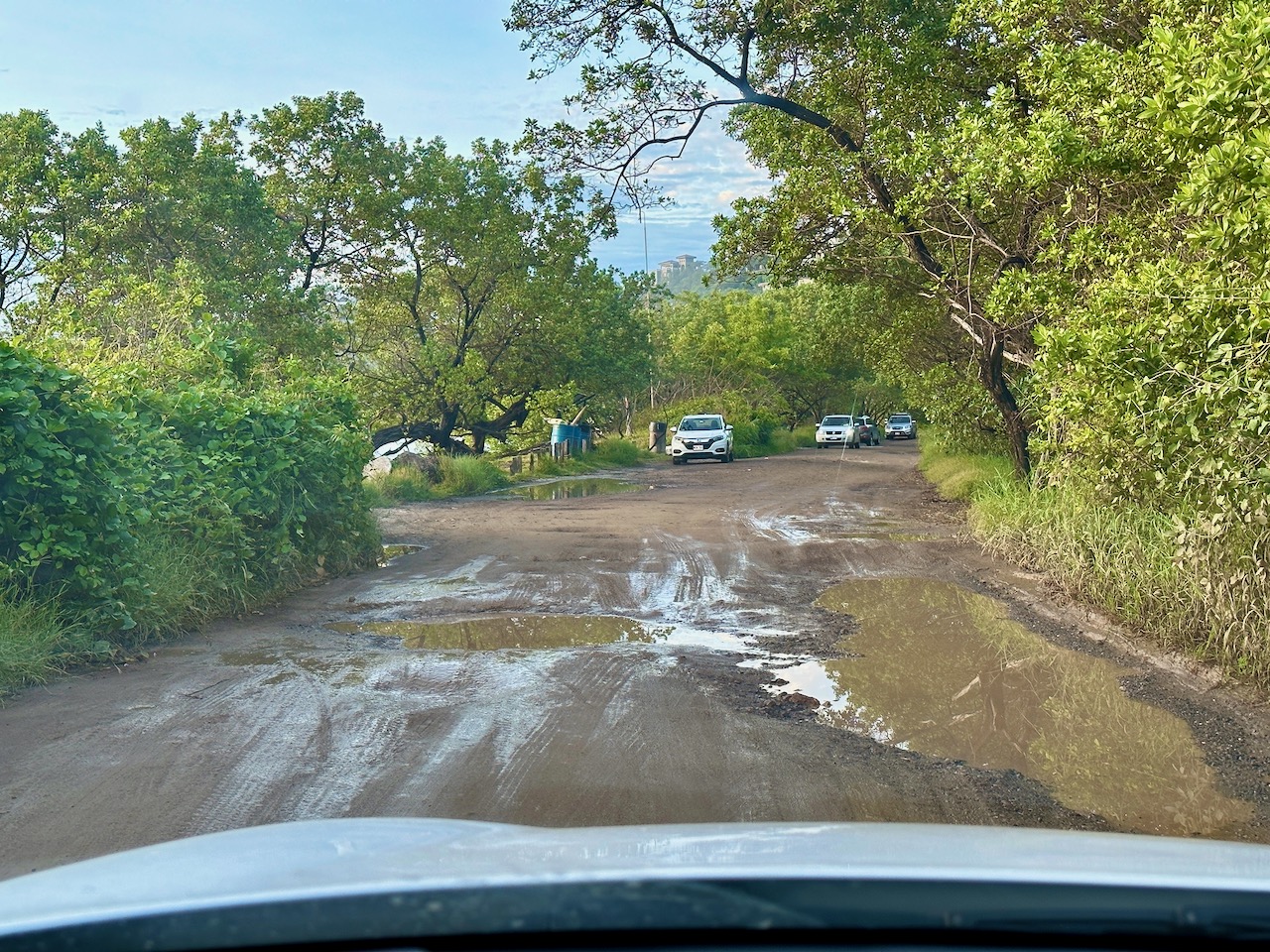 GETTING GAS
Like renting a car in Liberia, filling up the tank is very easy. The stations are full service so pull to a pump and an attendant will ask if you want a dollar amount or a full fill. Pay with cash or a credit card and you're on your way.
DRIVING
Unlike in San Jose, driving from the Liberia International Airport is very straightforward. The biggest mistake you can make is trying to drive aggressively like some locals and speed way over the posted limit. You can get a speeding ticket and some roads are just plain dangerous with vehicles passing slow freight trucks. Check out our list of things NOT to do in Costa Rica. 
It's okay to pass slow traffic when you can do so safely but we advise caution as other drivers on the road don't always use good judgment when passing. We've seen motorcycle accidents first hand and it's a sobering reminder to use caution and drive smart. if we had just looked at the alternate route options before heading out. Needless to say it was all part of the adventure and we made it to Playa Flamingo in one piece.
THE DROP OFF
Nothing special to report here. Pull into the the rental drop off area where you picked up the car and flag down someone to check you in. The shuttle will get you back to the airport on the next round and your post-trip blues will start to sink in. We use this time as inspiration to plan the next trip!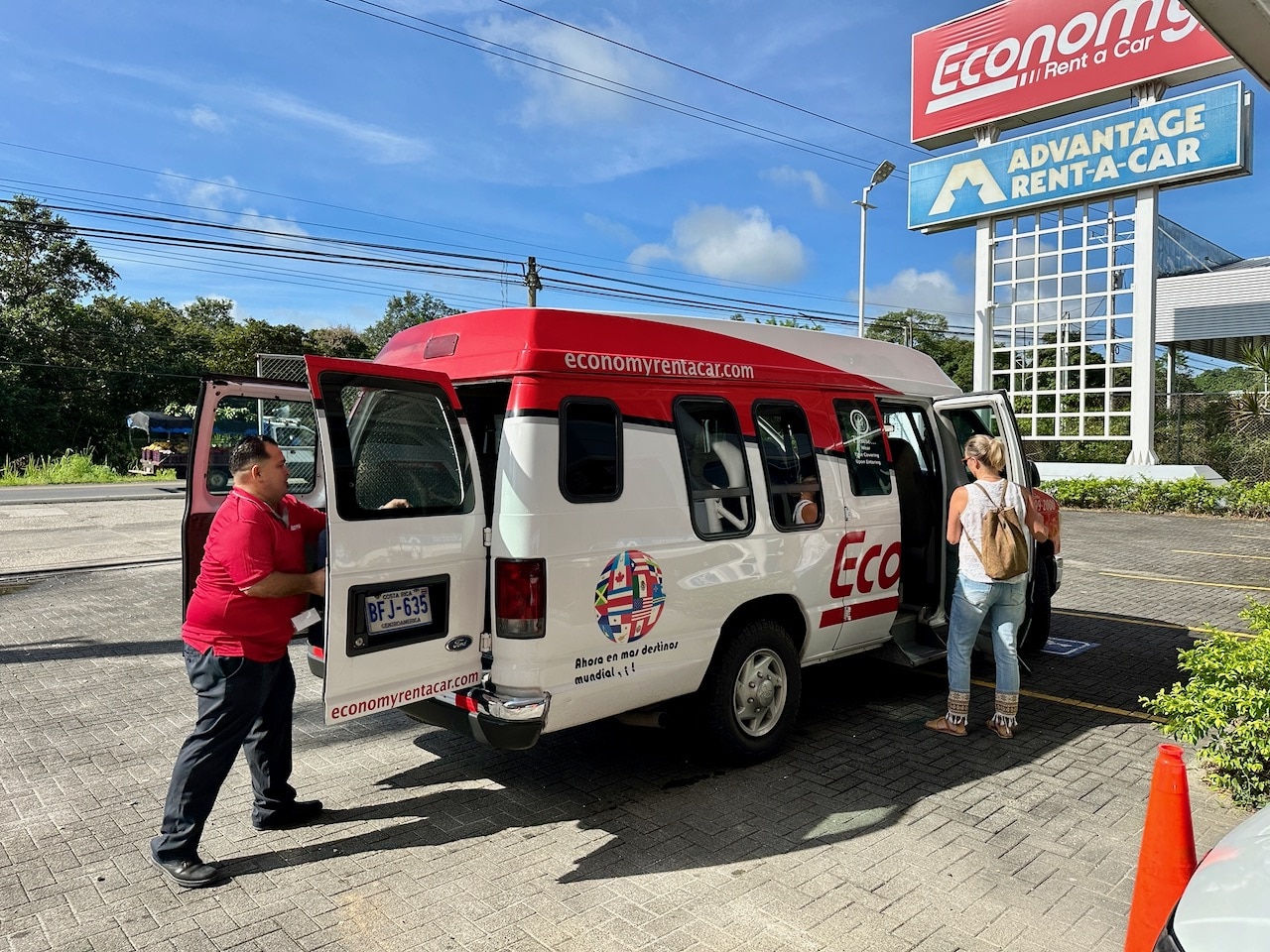 OTHER COSTA RICA DRIVING TIPS
Check the wipers – Check the windshield wipers before you leave the rental pickup area. If there is anything wrong, ask for another car. It rains often and not having working wipers can be flat out dangerous.
Check for damages – Check for damages to the vehicle before you leave the rental pickup area. Most rental cars will already have some scuffs and dings so make sure they are noted on the inspection form that you will have to initial.
Video walk around – We always to a quick video walk around in case there are any damage disputes after you drop-off the vehicle. It takes less than a minute and could save you time and money later if there are any issues.
Navigation apps – We've been told by many rental car employees that Waze is the best navigation app for driving in Costa Rica. We've had good experience with Waze but Google Maps has always worked well too. Apple Maps doesn't navigate in Costa Rica so be prepared with a different app.
Research your route and don't take Highway 911 – When leaving the Liberia International Airport do a quick overview of the route before you follow it blindly. If you're heading down to Portreo, Playa Flamingo, or Brasilito, do not take the Highway 911 (called The Monkey Trail) unless you are familiar with the route.
The Monkey Trail (Highway 911)
We made the mistake of following Google Maps blindly, which tried to save us 5 minutes of drive time and took us down Highway 911 to the coast. It was 9pm at night in the rainy season and we had a 2WD rental car with horrible windshield wipers.
The pavement quickly turned into a dirt road full of potholes, a river crossing, and narrow passing areas. All of this could have been avoided if we had just looked at the alternate route options before heading out. Needless to say it was all part of the adventure and we made it to Playa Flamingo in one piece.