Overview
Hola! While we've finally got our packing list down for Costa Rica, it's been a lot of trial an error with overpacking and under packing. The biggest mistake I've made it not bringing an adequate rain jacket and waterproof shoes. Getting stuck in a muddy downpour with flip fops and a light windbreaker isn't fun at all. Below is our tried and true list of the Costa Rica essentials as well as some optional items that could be helpful during your adventure.
Items marked with a 🦩 are included at our vacation rental!
Essential Gear
SUNSCREEN
I can't emphasize enough how important a good sunscreen is in Costa Rica. Don't think that you can get a base tan on your first day which will really ruin your trip! We recommend a reef safe option like SPF 50 Sun Bum. If you're flying with a carry-on only, make sure to get a few of the smaller size bottles to get through TSA without any issue. You can buy sunscreen is many markets around the country but it is often more expensive than bringing your own.
MOSQUITO REPELLENT
Similarly to sunscreen, you can often find mosquito repellent at many local markets. You won't have the selection that you do at home and everyone has different preferences on DEET repellents vs natural options so bring whatever works for your skin. Not only does repellent help against unwanted bites, it also reduces the likelihood of coming into contact with a mosquito transmissible disease like Chikungunya and Dengue. We like this Sawyer Products Repellant because it's DEET free and still works well. 
INSULATED CAN COOLER 🦩
My favorite part of getting to Costa Rica isn't the moment you depart from the plane and feel the wonderfully humid air. It isn't taking the wrong road at 10pm and getting terribly lost along the way to the condo. My favorite part is cracking a can of Imperial and having that first sip of Costa Rica's national beer. Yeti Can Coolers keep our beer frosty cold until the last sip and always make it in our travel bag.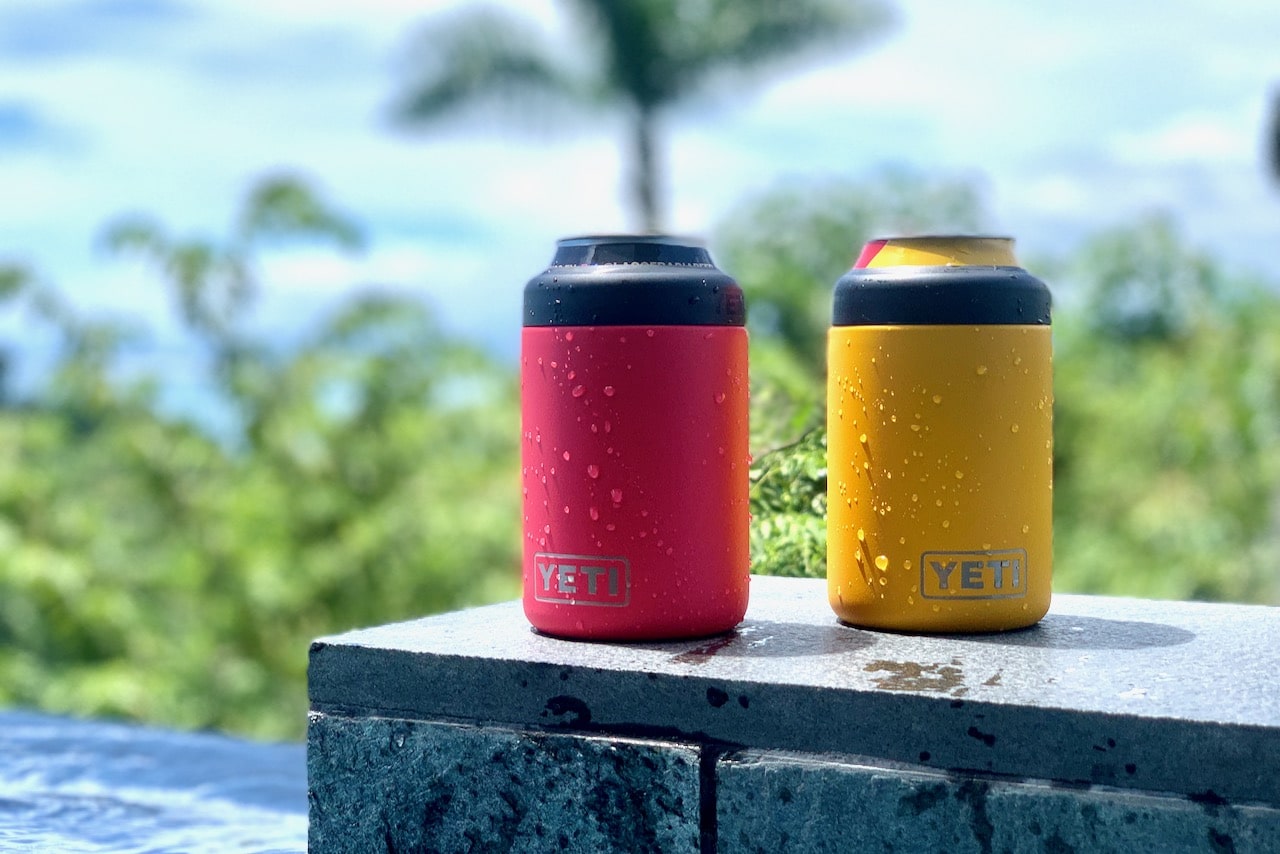 INSULATED WATER BOTTLE
Almost as important as having cold beer, we also like having cold water when it's time to rehydrate (which you should be doing all the time in Costa Rica). Any insulated bottle works but we love our hydro flask for a day at the beach.
SUNGLASSES
The key word here is polarized. We highly recommend polarized glasses if you'll be near the ocean to eliminate the glare from the bright sun. At the very least, your glasses should have UVA and UVB protection. If you have expensive glasses, we recommend getting a cheaper pair for adventures where you might dip like river rafting or stand up paddling.
HAT
Even if you're not a hat person, it's work bringing some extra head coverage with you to Costa Rica. The sun is very strong being close to equator and we always bring a hat for the extra sun protection. Our go-to is a floating hat by Melin. They are waterproof, easily washable, and don't fade or lose their shape after a few weeks of abuse.
MICROFIBER TOWELS 🦩
While this might seem like it should be in the optional gear, we consider it an essential item. A microfiber towel is so much better than traditional cotton. It dries fast, packs down, and it doesn't bring the entire beach back with you.
Optional Gear
BINOCULARS
I'm sure one reason you're going to Costa Rica is to see some wildlife, right? While binoculars aren't always in our bag, they do make it easier to see animals like sloths, monkeys, birds, etc.
GOPRO CAMERA
If you enjoy documenting your adventures, a GoPro camera is the most versatile option for all activities in Costa Rica. Snorkeling, diving, hiking, zip lining, waterfall repelling… a GoPro can capture it all.
HEAD LAMP
It's great to have a little extra light when walking back to your condo or vehicle after a dinner out. Most roads near the beach are dirt and often contain potholes or rocks and it's not fun twisting an ankle hard way through your trip. You phone light is likely sufficient but a headlamp could be helpful for the more adventurous traveller.
BATTERY PACK FOR YOUR MOBILE DEVICE
Power outages are a regular occurrence in Costa Rica. Normally it's back on fairly quick but it's nice to have the assurance of some extra juice for your mobile device, especially if you're using a navigation app on an extended drive.
TRAVEL SIZE FIRST AID KIT 🦩
Blisters, scrapes, and cuts happen on occasion and it's nice to be able to clean and bandage property to avoid and infections. Most travel first aid kits also have minor pain medicine and take almost no space in your bag. We always travel with one.
WATERPROOF PHONE CASE
Most moderns phones have some degree of waterproofing but there are some great lanyard style bags that keep you phone close and protected from the elements. We've used them when rafting in Manuel Antonio to get some great photos along the way and the phone came back safe and sound.
Clothing & Dress Code
BEACH
Costa Rica is a very casual country in terms of dress. Because it's so hot long the coast, most people wear bathing suits, shorts, tank tops, and really anything that will keep you cool.
MOUNTAINS
Unlike the coastlines, the mountains will get cold and you'll need pants and a jacket. Denim never dries here to forget the jeans and swap that for a more lightweight fabric.
CITY
You won't see anyone wearing beach attire in San Jose. The same pants you'd bring to the mountains will work great here and you'll want a jacket in the evening.
RAIN JACKET
Don't bring a windbreaker. Don't bring an overly insulated jacket for the snow. Do bring a lightweight rain jacket that can pack down. It rains in every part of the country and the rain can be extremely heavy in the green season.
SHOES
Arguably the most important thing to get right for your trip. The wrong shoes can make or break your time in Costa Rica. The best shoes are dependent on the activities you intend on doing. If your trip is 100% in the cloud forests in Monteverde, a good pair of waterproof hiking shoes take priority over flip flops.
SWIMWEAR
Any swimwear works, just don't forget them.
Toiletries
General Amenities 🦩
You can find normal shampoo, conditioner, etc in many markets throughout the country. If you opt to bring your own products, try finding travel sized versions or buy some refillable bottles to reuse next time.
ANTI-ITCH CREAM
Even if you've lathered up in mosquito repellent, you're bound to get a few bites along the way. Some hydrocortisone creme goes a long way to help the itch.
Makeup remover
Makeup remover is often hard to find in most Costa Rican markets but only bring what you'll need. Just like spray tans, makeup doesn't do well in this tropical climate.
Don't Bring
FLASHY JEWELRY
Costa Rica is generally a safe place but like anywhere, there is crime of opportunity. Don't leave valuables in your parked car. Don't wear a lanyard with your cash and credit cards visible. Don't wear flashy jewelry.
HIGH HEELS
High heels are completely unnecessary unless you're spending the entire trip going to nicer restaurants in San Jose. Most beach towns are full of dirt roads and a high heels are a recipe for a sprained ankle.