Overview
Some are cultural, some are practical, and some are just common sense. Below is our list of things to not do in Costa Rica.
DON'T SWIM IN RIVERS
The rivers of Costa Rica are claimed by the crocodiles. Yes.. seriously. Don't swim in or near any river mouths to avoid contact with our sharp toothed friends. The river rafting tours take place further upstream with strong currents so no need to worry. Our favorite rafting company is Amigos Del Rio in Manuel Antonio. Check them out if you're around that area!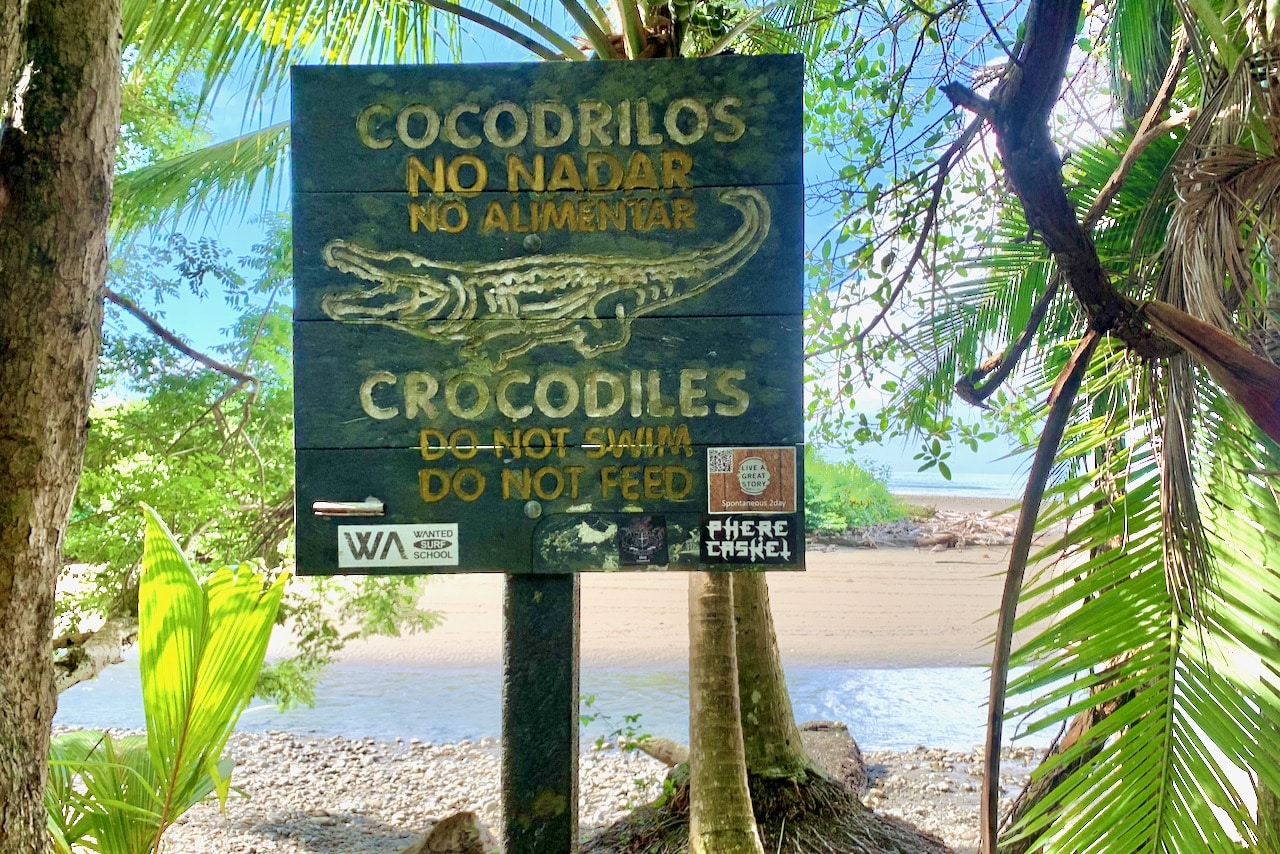 DON'T TOUCH OR FEED THE WILDLIFE
Look but don't touch is a good motto for animals anywhere other than a petting zoo. Let them be and don't try to bribe any animals with food. Eating human food can be terrible for their health and they can become dependent on feeding by humans.
DON'T FORGET TO APPLY SUNSCREEN
All the time. That's how often you should be applying sunscreen when you're at the beach. Grab a long sleeve rash guard for those extended swimming sessions to help prevent burning. We like SPF 50 Sun Bum which comes in convenient travel sizes. Sunscreen can be purchased at local markets but it can be much more expensive than buying it at home. Check out our full packing list here.
DON'T SWIM IN THE OCEAN AT NIGHT
I really love to swim in the ocean at night. There's something scary and amazing about it but Costa Rica is one place I still avoid the temptation. Many beaches along the coast have mild to moderate rip tides and you can be swept out quickly. It can be scary during the day and much worse at night when no one is around to help.
DON'T SPEED ON THE HIGHWAYS
Driving on Costa Rican highways feels a bit like driving in Hawaii. There's often one lane each way and you're often stuck behind a semi truck until it's safe to pass. Most speed limits max out at around 80 KPH (50 MPH) but you'll often see locals and tourists alike drive much faster than that. Follow the speed limits to avoid getting a costly ticket and pass only when it's safe to do so. Many locals, especially motorcycles, pass in very dangerous situations and a collision will end your trip pretty quickly.
DON'T ASSUME IT'S MEXICO
Unless it's a Mexican inspired restaurant, you won't see nachos and burritos on the menu. Authentic Costa Rican food is Casado which contains a plate of seasoned beans and rice, chicken, greens, and often fried plantains. You can get margaritas everywhere but we encourage you to try a cocktail with the local sugar spirit, Guaro.
DON'T GET FRUSTRATED IF THINGS MOVE SLOWLY
It's called Tico Time and things are just slower in Costa Rica. Unlike in the United States where we seem to get the check before the food arrives, you'll most often have to ask for the check when ending your meal. This isn't bad service. The goal is to sit and enjoy your food, drinks, and your company. The meal ends when you want it to.
DON'T OVER TIP AT RESTAURANTS
In Costa Rica, a 10% gratuity is automatically added to the check. You don't have to tip anything else but it's very appreciated to leave a little more if you've had great service.
DON'T ORDER A GLASS OF RED WINE AT A BEACH BAR.
This one is kind of an inside joke between Anna and me. We've yet to find a good glass of red wine from a bottle that's already been opened. I think that so few people order red wine at the beach, open bottles sit there for weeks or months at a time until people like us make the mistake of ordering some. We've had some great bottles, just not wine by the glass.